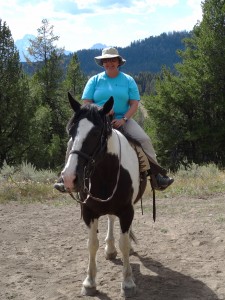 There is nothing like a horseback ride in Wyoming to make you appreciate how confined your clients feel when they are in the middle of the worst situation of their life, or so it feels. A ride on Jughead, though, makes me think of new possibilities and fresh starts, of adventures yet to come in life.
For 33 years I have cherished my role and ability to help my clients rise above the fear and scariness of divorce, especially when that is not their choice, to make a forward reaching plan to take care of themselves and their children. I am reminded of a question in a book that I read many years ago called Who Moved My Cheese, where the mouse observed that the only thing to count on is change. Adaptation. It can be so hard.
But remember, YOU ARE THE GROWN-UP. Period. If you can't get that right away . . . go to Wyoming, or Cottageville, SC, and gallop on a horse and clear you mind. Then come back and do the right thing with regards to your spouse and most particularly, your children.